Our goal is restorative function, with reduced pain and shortened recovery time.
SCHEDULE YOUR APPOINTMENT TODAY!
Our practice offers minimally invasive options for some surgeries. This option can dramatically decrease recovery time to get you back to your activities faster than traditional surgical approaches.
It is important to discuss any foot and ankle fracture with your surgeon. Although not all fractures require surgery, surgery may be recommended for your injury. Surgical treatment is often recommended to prevent long term deformity, pain and to decrease recovery time.
Extracorporeal Pulse Activation Technology (EPAT®) is the most advanced and highly effective non-invasive treatment method approved by the FDA. This office based procedure represents a breakthrough treatment option for a broad range of musculoskeletal conditions.
Changing the Scope of Foot and Ankle Care
Quickly becoming recognized as a top podiatrist in Plano, Dr. John Baca offers state-of-the-art toe, foot, and ankle care for patients of all ages. Dr. Baca and his staff are committed to providing patients with excellent care and pain relief by offering a wide variety of medical and surgical services.
A podiatrist is a medical professional who provides patients with specialized care for the foot and ankle. Without healthy feet and ankles, it is very difficult to get around. There are lots of great activities and sporting competitions in Plano, Texas, and the greater Dallas-Fort Worth area, and an experienced podiatrist like Dr. John Baca at Total Foot and Ankle can help you to enjoy your favorite indoor and outdoor activities, compete in sports, and work without foot or ankle pain. Occasional ankle sprains and common foot ailments are among the many conditions that a skilled foot doctor could help to treat and cure.
What a Podiatrist Does
A podiatrist is a foot doctor who can diagnose a variety of foot and ankle conditions and initiate effective treatments. The treatments might include foot or ankle surgery that repairs broken bones, tendons, ligaments, and other soft tissue injuries.
Dr. Baca is a specialist in foot and ankle ailments. Dr. Baca and the rest of our professional staff at Total Foot and Ankle are the best source for relief from various conditions that commonly afflict feet and ankles. If you suffer a broken bone in your foot or ankle, we can treat it and make it better.

Conditions Commonly Treated
Your foot doctor at Total Foot and Ankle can provide effective treatment for a variety of foot and ankle conditions. Dr. Baca and our other professional foot and ankle specialists commonly diagnose and treat:
Bunions

Achilles pain

Nerve problems

Heel pain

Broken ankles and feet
We also can help with corns, warts, and bone spurs that could cause you to feel extreme discomfort. Ingrown toenails, arthritis, and foot conditions caused by diabetes are among the wide range of conditions for which patients at Total Foot and Ankle often find effective relief.
Some foot and ankle conditions require surgical solutions. Dr. Baca can perform arthroscopic surgery to repair damaged tendons and other soft tissue and help to speed up the recovery. Broken ankles or bones in the foot also might benefit from arthroscopic procedures that focus the surgical effort where it is needed the most.

EPAT Therapy Enhances Natural Healing
Among the many effective and innovative foot and ankle treatments at Total Foot and Ankle is the revolutionary Extracorporeal Pulse Activation Technology (EPAT) therapy. EPAT therapy uses pressure waves to enhance your body's natural healing. It focuses the pressure waves on the afflicted areas in your ankle or foot. That increases the blood flow while helping to reduce the inflammation and swelling that make your foot or ankle especially painful.
If your foot or ankle is causing you pain and limiting your mobility, Dr. Baca and our professional staff at Total Foot and Ankle can help. Just call us toll-free or contact us online to schedule effective treatment that delivers real relief.
Fellowship-Trained Foot and Ankle Surgeon
Dr. Baca is a fellowship trained foot and ankle surgeon utilizing cutting edge technology to treat foot and ankle pain. From conservative treatments to minimally invasive surgical treatments, Dr. Baca and his team are here for you.
Accepting new patients
If you are experiencing pain in your toes, feet or ankles, take the first step towards a pain-free lifestyle by requesting an appointment today. Dr. Baca and his staff are accepting new patients.
Voted Best Doctor in D Magazine for 2021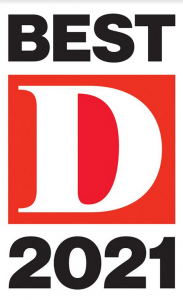 Diabetic Feet
_________
Are you one of the millions of Americans managing diabetes? If so, Total Foot and Ankle wants to partner with you in managing the care of your feet.
Over time, diabetes can cause nerve damage that might impact your feet. The nerve damage, known as diabetic neuropathy, can result in a loss of feeling in the feet. With neuropathy present, even a small cut can go unnoticed and lead to serious complications.
Achilles Pain
_________
Are you suffering from pain near the back of your heel? If so, you might be experiencing Achilles Tendonitis.
Achilles Tendonitis is typically caused by repetitive stress or strain on your Achilles Tendon. In most cases, Achilles Tendonitis can be treated with conservative non-surgical care. However, if your Achilles Tendon has ruptured, surgical repair might be recommended.
Heel Pain
_________
Are you experiencing significant pain on the underside and back of your foot? If so, you might be experiencing heel pain.
Heel pain is most often caused by a condition called plantar fasciitis. Heel pain may also be caused by stress fractures, tendonitis, arthritis or nerve irritation. There are both conservative and minimally invasive treatment options that provide heel pain relief.
More Conditions We Treat
Find out what we have to offer at Total Foot and Ankle.
Achilles Pain
Ankle Instability
Achilles Injuries and Ruptures
Ankle Sprains
Ankle Pain
Foot and Ankle Arthritis
Congenital Foot and Ankle Deformities
Foot and Ankle Fractures
Flat Feet
Foot Sprains
Gout
Hammertoes
Arch Pain
High Arches
Surgical Complications
Wounds and Ulcers
Workers Compensation Injuries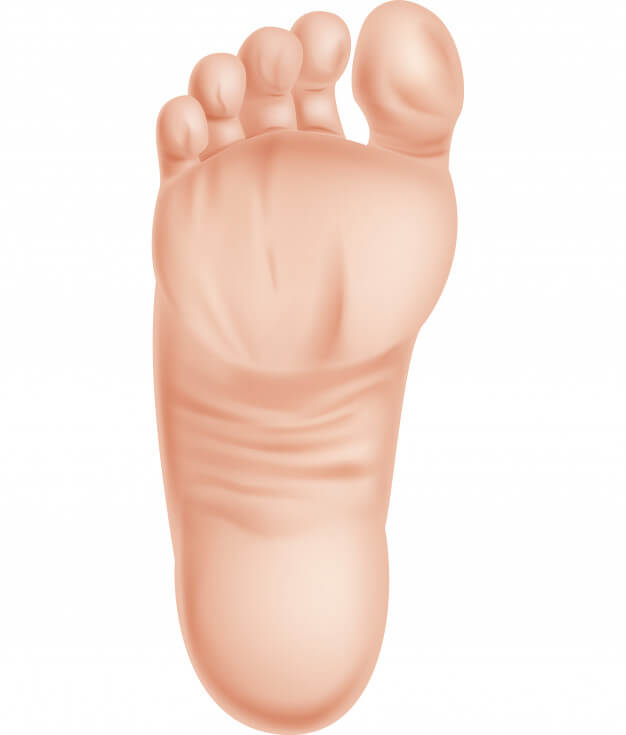 Foot and Ankle Conditions
To learn more about foot and ankle conditions, visit the American College of Foot and Ankle Surgeons' patient education website, FootHealthFacts.org.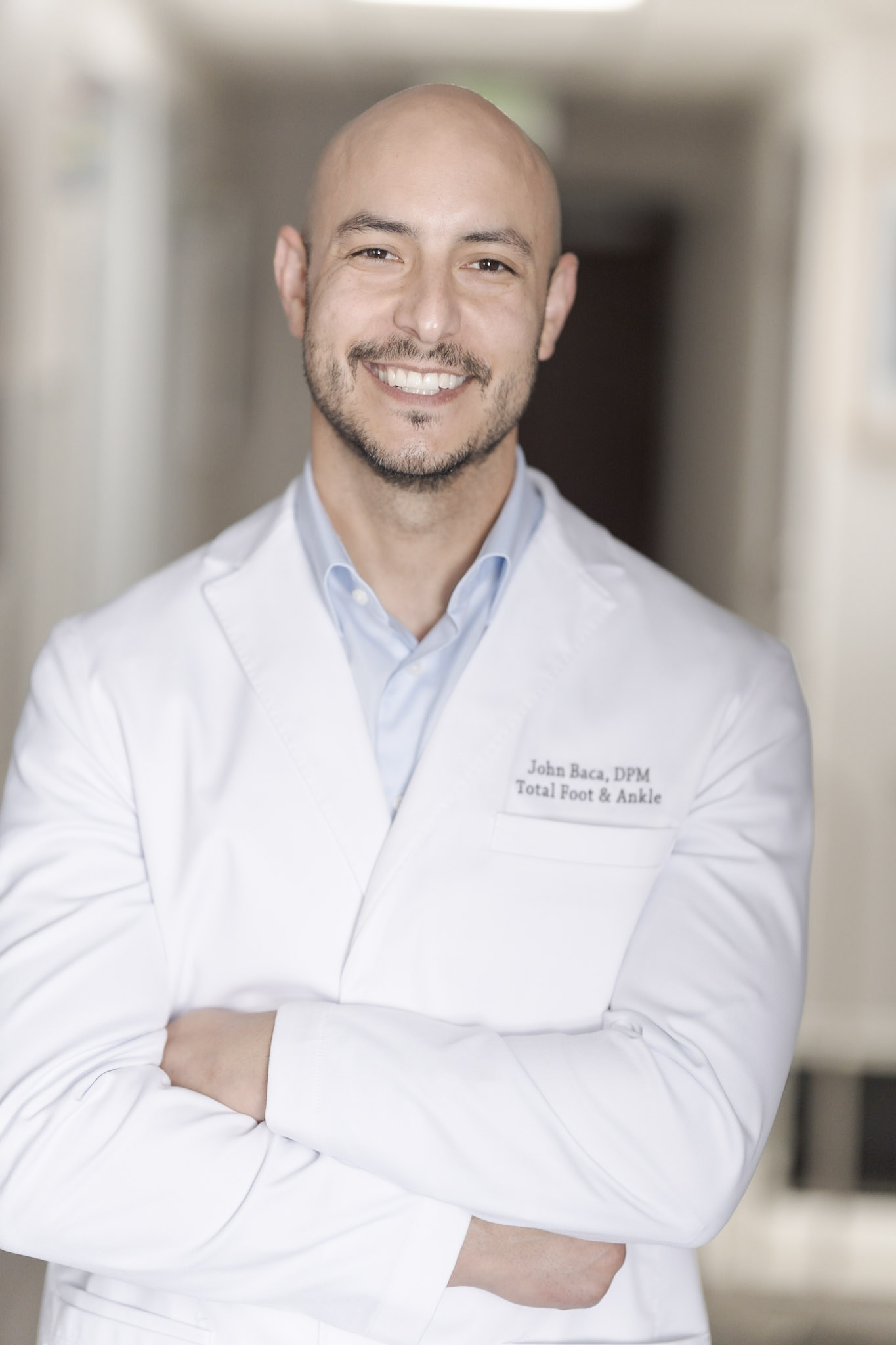 Meet Our Doctor
Dr. John Baca.
Noted Plano podiatrist, Dr. John Baca, is the founder of Total Foot and Ankle in Plano, TX. His state-of-the-art podiatry clinic provides specialized care of the foot and ankle.
Dr. Baca utilizes the latest advancements in treatment including minimally invasive techniques and complex surgical care.
Whether you are a weekend warrior, or a professional athlete, Dr. Baca and his medical staff have the expertise to treat your injury.
We believe in finding treatment solutions that get our patients back to living a pain-free lifestyle. We are accepting new patients! Call us now to schedule a consultation.
Click on the link below to read Dr. Baca's bio and learn more about what sets him apart as one of the top foot and ankle surgeons' in the area.